Ad Blocker (Ad Killer, Ad Stopper) in SlimBrowser
SlimBrowser includes a built-in Ad blocker (similar to the Ad Blocker Plus plugin for Chrome and Firefox) which can selectively filters out annoying and obtrusive ad (advertisement) components within the web pages. It can identify the flash ads, banners and annoying floating images based on URL matching and CSS selector matching. Any web resource with URL matching an Ad Blocker URL filtering rule will not be downloaded at all. Thus, it not only relieves your eye from obtrusive Ads but also saves you memory & bandwidth, which serves as a big boost to the overall performance of SlimBrowser.
You can select Tools:Ad Blocker:Enable Ad Blocker from the menu to enable the ad blocker inside the web browser. To configure more options about the Ad Blocker, select Tools: Ad Blocker: Ad Blocker Options from the menu. You can subscribe to one or more filter lists from the available filter lists based on the language of the websites you visit. The subscribed filter lists will be automatically updated periodically to filter out the latest ads.
In case the predefined filter lists can't filter all the ads for you, you can use the "User Filter List" to add your own filter rules. If there are some websites on which you want to see the ads anyway, you can add the related domains into the domain white list.
Screenshot of Ad blocker options dialog in the web browser: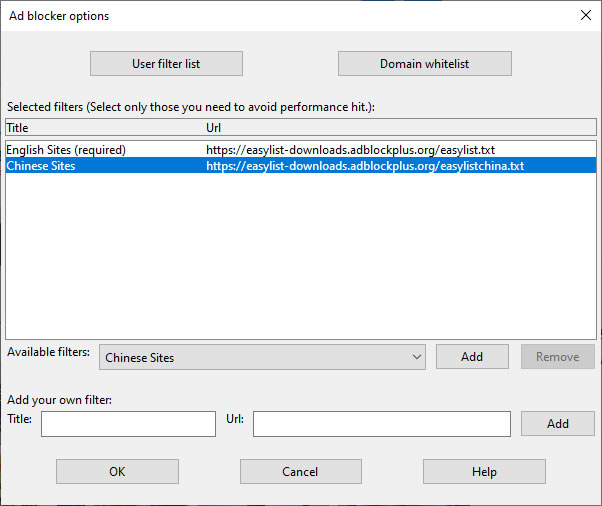 We also provide an AD blocker history window to help you figure what to unblock when something you want to see is blocked: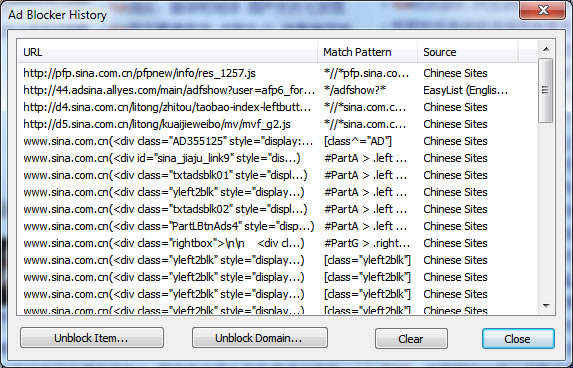 The ad blocker feature is internally implemented in SlimBrowser. It does not depend on any external plugins or third-party software.
Credits
The EasyList and the other non-English filtering list are provided by The EasyList Authors . The Fanboy's list is provided by http://www.fanboy.co.nz/ .