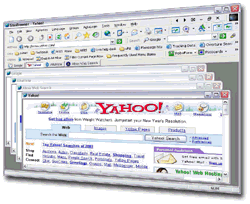 System Requirements
SlimBrowser supports the followings windows platforms:
Windows 98, Windows Me, Windows NT, Windows 2K, Windows XP, Windows Vista, Windows 7, Windows 2003 Server, Windows 2008 Server.
SlimBrowser runs on both 32-bit Windows and 64-bit Windows.
What our customers are saying
"Having tried all the web browsers for Windows, SlimBrowser is the most convenient one."
"Great for fast web browsing. Highly recommended as one of the best web browsers for windows."
"Stands out from the crowd of web browsers designed for Microsoft Windows."
"It comes with a lot of gears. One of the easiest to use among all the web browsers."
"In my opinion, it's way better than Microsoft Internet Explorer. Web designed web browser!"
"Fantastic web browser. I've been using it for years."
"Opens and runs fast. Seldom crashes. Perfect choice of web browsers for Windows."
"My favorite web browser for Windows 7."
"Fast, predictable and stable. My final choice of web browsers for Windows."'
"It does everything possible within 2MB. Can't expect more from it. Beat all other web browsers on windows XP / Vista!"
Click here to Download SlimBrowser - Best Browser for SlimBrowser
Best web browser comparison & review: resource links
Windows Web Browsers Category from Wikipedia
List of Web Browsers for Windows
Most popuplar web browsers for Windows, Download
Portable web browsers for Windows
List of all web browsers for Windows: