Multi-Threaded Download Manager
Demonstration Video: Multi-threaded Download Manager
Are you ever tired of slow speed limited by the server bandwidth when you download file from internet? Are you also tired of broken connections which force you to restart the download all the way from zero? Are you tired of Internet Explorer opening as many download dialogs for each file you are downloading? If that is true, the internet download manager integrated as part of SlimBrowser is going to make your life a lot easier!
SlimBrowser includes a multi-threaded internet download manager which organize all your downloaded files and boost your download speed by many times. The download manager is able to split the same file into multiple sections and download them simultaneously with multiple threads. If your local internet connection bandwidth doesn't become a bottleneck, it can increase the download speed by up to 12 times by splitting the file into 12 sections in maximum. In reality, the optimum number of sections to reach maximum speed depends on both the bandwidth of your internet connection and the bandwdith of the web server.
With the internet download manager, you can pause and resume download jobs any time. You no longer have to worry about broken downloads. You can close the web browser and pause all the download jobs. In the next session, you can pick up the download jobs right where you left it off.
When you try to download a file in the web browser, you will see the following dialog instead of the default IE download dialog: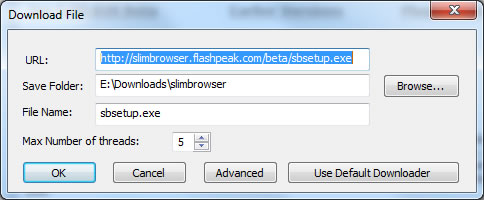 You can click the advanced button to see more advanced settings if necessary.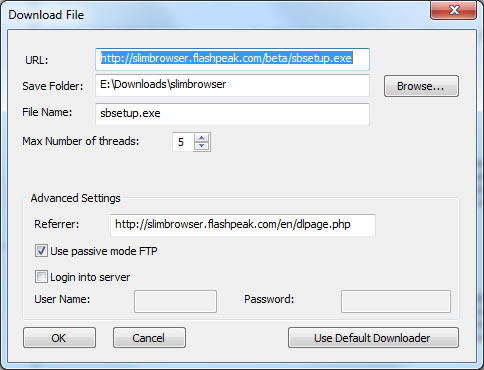 The download manager window will automatically open once you start to download a file. A screenshot of the download manager is shown below. In this window, you can manage all the download jobs easily.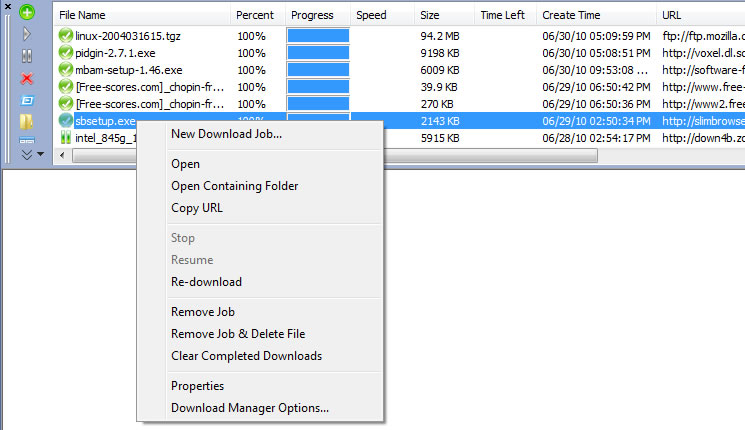 Since the internet download manager is internally implemented in SlimBrowser, there is no need to install any external software or plugins in order to support this free feature.