Automatic Form Filler (AutoFill) / Password Manager
Demonstration Video: QuickFill Automatic Form Filler / Password Manager
Are you tired of typing the same name and address information again and again when you fill in web forms online? Are you tired of entering the same user name and password again and again when you login into your favorite websites? SlimBrowser has provided an automatic form filler / password manager called QuickFill. It automatically save and fill web forms for you. It can also automatically help you login to your favorite online accounts with a single click.
You can save the login information such as user name and password, or any other text you have entered in a web form as a form file. After the form is saved, you can access the saved form file from the QuickFill menu. SlimBrowser will automatically navigate to the same web page, completes the web form using the saved login information and submit the form. All these three steps are performed continuously without the need for user intervention.
QuickFill also helps you fill online application forms or account registration forms with your personal information automatically even if you are filling the form for the first time. All you have to do is to define your name, contact and address information in an identity file. After that, you can select "QuickFill->Fill with current identity" from the menu to fill the current web form automatically using artificial intelligence recognition technology. SlimBrowser supports multiple identity profiles so that your entire family can enjoy the QuickFill feature together.
The form files and identity files are encrypted with very strong encryption algorithm. As long as you have a strong master password, all your other passwords are safe and unbreakable. With the help of QuickFill, you no longer have to remember all the different passwords for different accounts. You only have to remember a single master password.
QuickFill is internally implemented in SlimBrowser. SlimBrowser users no longer have to rely on third-party form filler / password manager plugins such as RoboForm or Lastpass for form filling purpose.
Here are some screenshots which illustrates the QuickFill form filler / password manager in action.
1. QuickFill Menu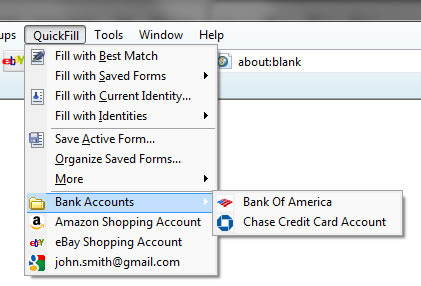 2. Convenient toolbar buttons to save form and autofill form:
3. Define your personal information in an identity file

4. Select the current identity from all the available identities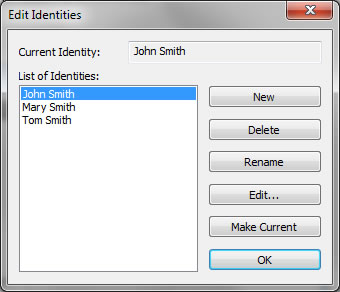 5. Fill the form by clicking the

button.
The form fields automatically filled will be marked with yellow background.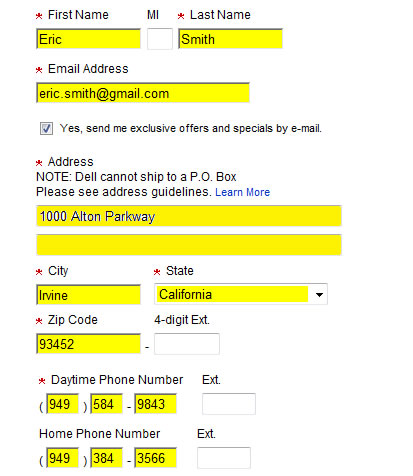 What is a password manager?
Password manager is a software which manages all your passwords and login information in a secure centralized storage location. All the passwords contained inside the password manager will be protected by a single master password. The security of all the passwords will depend on the strength of the master password. So it's very critical that you choose a very strong master password which contains both upper and lower case letters, numbers and special symbols. The password length should be at least 8 characters or more.
What is a form filler?
Form filler is special type of password manager. In addition to store and manage all the passwords, it also automate the login process by automatically fill in user name, password and other additional information for end users. In order to do that, it maintains more than passwords. It also stores the associated user name and other form data required for carry out automatic login.