QuickFill - Intelligent Form Filler / Password Manager
Demonstration Video: QuickFill Form Filler / Password Manager
Are you ever tired of typing the same name and address information again and again when you fill in web forms online? Are you tired of entering the same user name and password again and again when you login into your favorite websites? SlimBrowser has provided an intelligent form filler called QuickFill to help you save and complete those forms with a single mouse click.
You can save the login information such as user name and password, or any other text you have entered in a web form as a form file. After the form is saved, you can access the saved form file from the QuickFill menu. SlimBrowser will automatically navigate to the same web page, completes the web form using the saved information and submit the form. All these three steps are performed automatically without the need for user intervention.
QuickFill also helps you fill blank web forms with your personal information automatically even if you are filling the form for the first time. All you have to do is to define your name, contact and address information in an identity file. After that, you can select "QuickFill->Fill with current identity" from the menu to complete the current web form using artificial intelligence recognition technology. SlimBrowser supports multiple identities so that your entire family can enjoy the QuickFill feature together.
Here are some screenshots which illustrates the QuickFill form filler / password manager in action.
1. QuickFill Menu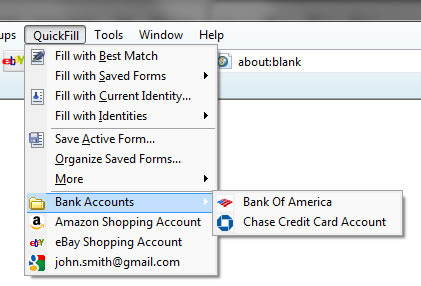 2. Convenient toolbar buttons to save form and fill form:
3. Define your personal information in your identity file

4. Select the current identity from all the available identities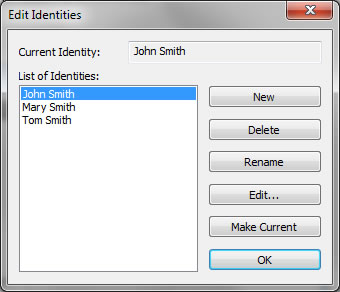 5. Fill the form by clicking the

button.
The fields automatically filled will be marked with yellow background.