Automatic photo shrinking
If you are a fan of taking high-resolution photos and sharing them with friends, you might be frustrated with the long time you have to wait while the large photo files are being uploaded. Most modern cameras shoot at 10M pixels or more, which result in at least JPEG files of 4MB or larger. If you have a lot of photos to upload, it could take quite a while to get it done. The truth is, you don't actually need that much resolution when you share a picture online. When people view photos inside a web browser, usually 1M pixel resolution is good enough since it's limited by the resolution of the monitor and the browser window size. So, why not shrink the photos to a smaller size beforehand to save uploading time? As a matter of fact, most photo-sharing web sites shrink your photos to a lower resolution after they are uploaded. In addition to faster speed, another reason to shrink photos is that many forum websites simply don't allow you to upload files above a certain size.
To make your life easier, SlimBrowser automatically shrinks the photos to a predefined resolution and store them as separate temporary files to be uploaded. The original high-resolution photos are not impacted while the shrinked photo files are automatically removed after a certain days. The entire shrink-and-upload process is pretty much transparent to you. This is so much simpler than shrinking the pictures manually one by one in external photo-editing software, isn't it?
To start using the photo-shrinking feature, simply select the pictures that you want to upload to your favorite website such as facebook.com, then click "Open" to close the standard "Open File" dialog. After that, you will see the following dialog,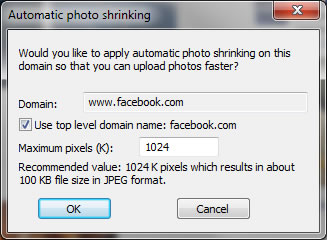 Modify the maximum pixel limit if necessary to suit your own preference. The default is set to 1M pixels to get a final image file about 100KB. Click OK and automatic photo-shrinking will be permanently enabled for the current domain. From this point forward, everything is fully automatic and you get to enjoy lightening fast photo uploading without breaking a sweat.